Turning Design on its Side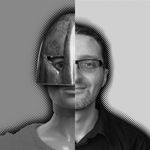 The original Bulletman was a 1940s comic book superhero and a 1970s Action Man toy. Paul Kerfoot created Bradford based Bullet Point (graphic design consultants) in 1989. Rediscovered on eBay, inspired by his alter ego and in an attempt to be different, 'The Bulletman' launched in 2009. What started out as a bit of fun has now become part of Paul's legacy. Memorable eh?
At the speed of a bullet, design director, branding expert and creative thinker – Paul (The Bulletman) Kerfoot – speaks about his passion for design in tonight's rapid-fire slot.
You can find Paul's slides here.