Notice
: Trying to access array offset on value of type bool in
/home/tedxbradford.com/public_html/wp-content/themes/ted/functions.php
on line
469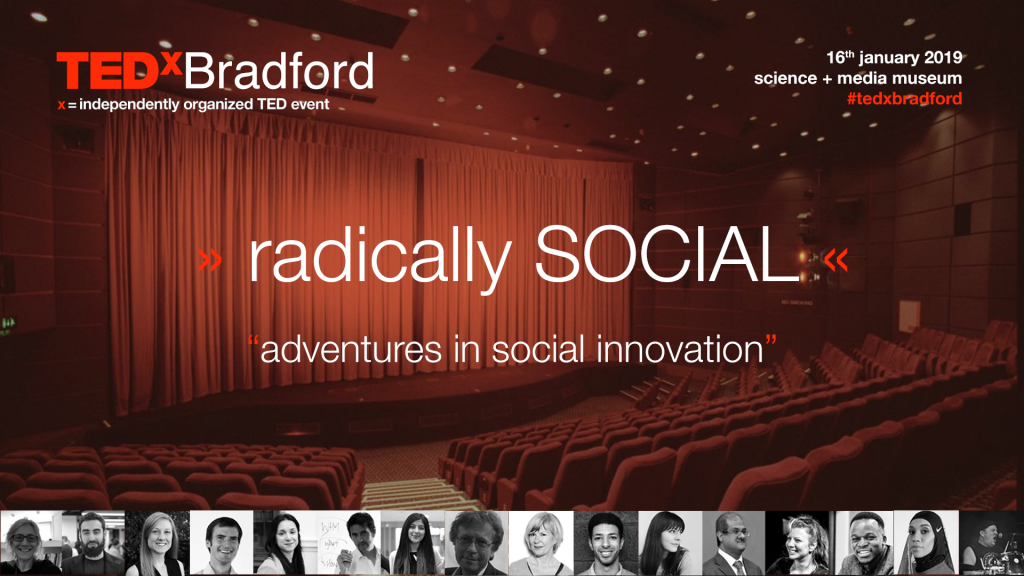 Bradford has long been a lab for social innovation – from the formation of the Independent Labour Party and Titus Salt's worker's village in the 1800s, to William Forster's work on the first national education legislation, the first schools to offer free meals to children and the first UNESCO City Of Film. With waves of Irish, German, South Asian and Eastern European immigration, the city has continued to be a place where a diversity of minds experiment with progressive ideas, to tackle social issues.
We're glad you joined us for a day of stories from those developing the ideas, projects and communities that are tackling the systemic social and environmental issues of today.
---
Our schedule for the day included talks, TED screenings, performances and many opportunities to network and meet the speakers over lunch and coffee.
09:00 Registration – Coffee & Pastries
09:30 Introduction – Imran Ali & Kamran Rashid

Session 01 – PLACE
09:40 Omar Salha – Ramadan Tent Project
10:00 Irena Bauman – MassBespoke: Building InCommon
10:20 Niall Bourke – Bradford City Park: Developing a vision
10:40 Mandip Sahota, Stefanie Stead & Norah McWilliam – Powering Innovation: Mills of the North
Session 02 – CREATE
11:00 Morning break & TED talk screening
11:20 Neil Gibb – The Life and Death of Everything Now
11:40 Emma Harvey – Whoops, I changed the world
12:00 John Baruch – Education for the 4th Industrial Revolution
12:10 John Bolton & Tony Saunders – Paying It Forward and the value of Social Capital
12:20 Nathan Geering – The Rationale Method
12:40 Lunch & Networking
Session 03: COMMUNITY
14:00 Mike Omoniyi – Redefining Common Sense
14:20 Steve Wyler – If we really want to take back control… then community business is the way to do it
14:40 Nasim Qureshi – Community based health interventions: Reach, Impact & Public Purse
15:00 Lucie Lee performs Lost
15:20 Afternoon Break & TED talk screening
Session 04: IDENTITY
15:40 Maria Mullin – Fine Tune the Culture
16:00 Asma Elbadawi – Finding a voice in words I couldn't spell
16:20 Nafeesa Nizami – Intersectionality as an intervention in radically social times
16:40 Jude Kelly – Why fathers of daughters can suddenly switch on to feminism
17:00 Outro & Networking
Speakers of TEDxBradford 2019: Radically Social